Win Ammo Blindside Waterfowl 12ga 3"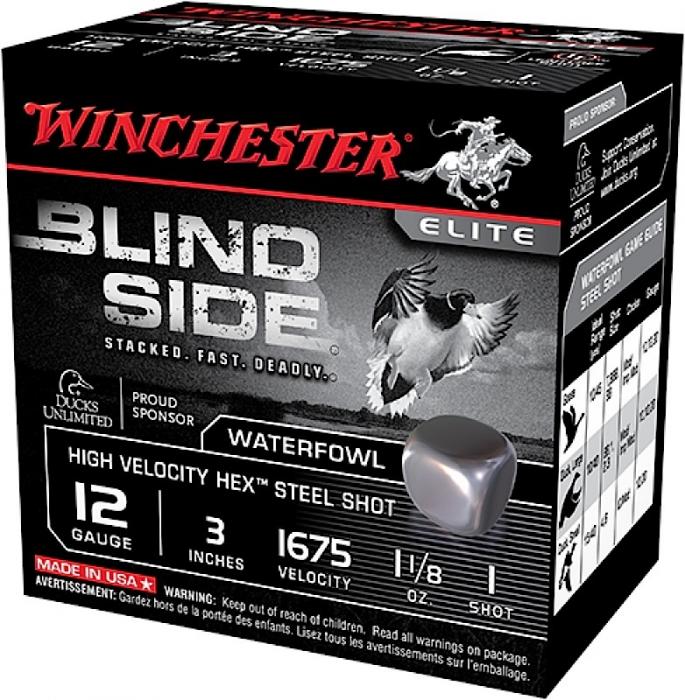 Currently Unavailable
MSRP

$2744
Win Ammo Blindside Waterfowl 12ga 3" 1-1/8 oz 3 25rd/Box, 10Box/Case
Blindside steel waterfowl ammunition includes game changing shotshell technology developed by the industry leader, Winchester. Forget everything you think you knew about steel waterfowl loads and get ready for a new hunting experience. They call it Hex Shot. For starters, Blindside shot is cube-shaped. That's right cube, square, box shaped, with corners, edges and 6 flat sides. Hex Shot is designed to hit waterfowl like High-velocity tumbling bricks, creating massive wound channels, preventing over penetration and maximizing energy deposit and knock down shock within the bird.
Also available...
| | |
| --- | --- |
| | 12 Gauge, Steel, 3.5" |
| | 12 Gauge, Steel, 3.5" |
| | 12 Gauge, Steel, 3" |
| | 12 Gauge, Steel, 3" |
| | 12 Gauge, Steel, 3.5" |
| | 12 Gauge, Steel, 3.5" |
| | 12 Gauge, Steel, 3" |
| | 12 Gauge, Steel, 3" |
| | 12 Gauge, Steel, 3" |
| | 12 Gauge, Steel, 2.75" |
| | 20 Gauge, Steel, 3" |
| | 20 Gauge, Steel, 3" |
| | 12 Gauge, High Velocity, 3" |
| | 12 Gauge, High Velocity, 3.5" |
| | 12 Gauge, High Velocity, 3.5" |
| | 12 Gauge, High Velocity, 3.5" |
| | 12 Gauge, Steel, 3" |
| | 12 Gauge, Steel, 2.75" |
| | 12 Gauge, High Velocity, 3" |
| | 20 Gauge, High Velocity, 3" |
| | 20 Gauge, High Velocity, 3" |
| | 12 Gauge, High Velocity, 3.5" |
Item Info
| | |
| --- | --- |
| Item | Available In Store |
| UPC | 020892021457 |
| Brand | Winchester |
| Model | SBS123HV3 |
| Gauge | 12 Gauge |
Tech Specs
| | |
| --- | --- |
| Type | High Velocity |
| Length | 3" |
| Ounces | 1-1/8 oz |
| Shot Size | 3 |
| Muzzle Velocity | 1675 fps |
| Rounds Per Box | 25 Rounds Per Box, 10 Boxes Per Case |
| Application | Waterfowl |
| Shot Type | Steel |
| Purpose | Hunting |